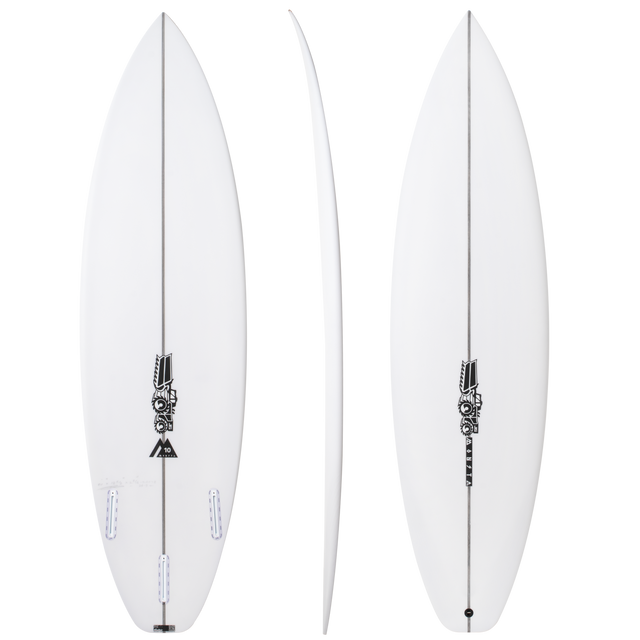 Monsta 10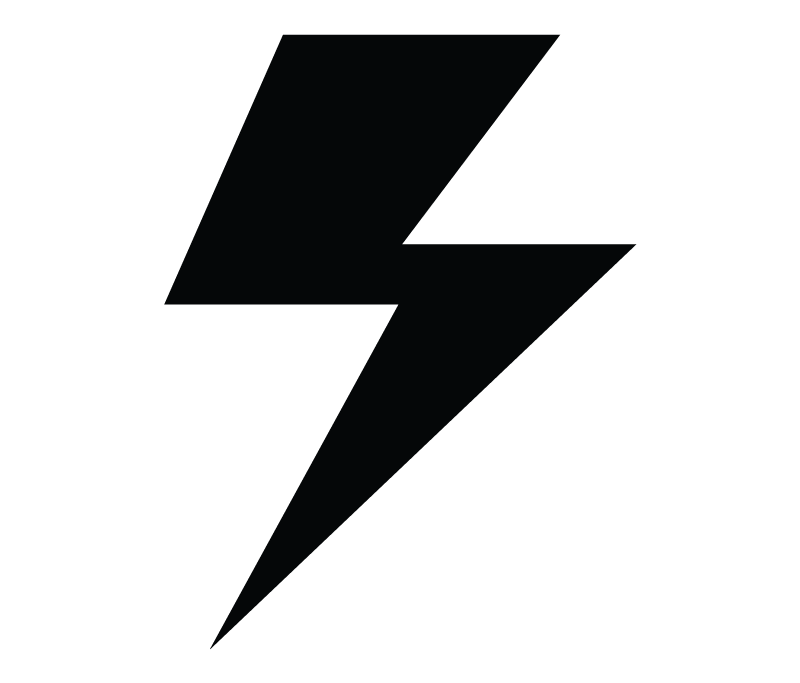 Evolution of the best - Our 10th edition.
HEIGHT
WIDTH
THICKNESS
VOLUME
In Stock
Sizes in stock will arrive in 3-5 business days.
Custom Order
PU - note there is a 4 week build + shipping.
HYFI - note there is a 14-16 week build + shipping.
(Shipping times will vary due to global freight uncertainty)
BOARD OVERVIEW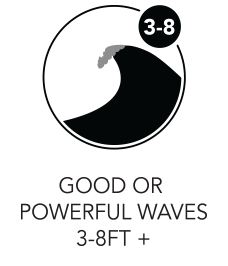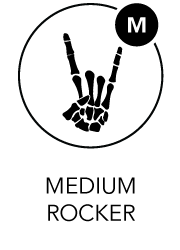 EVOLUTION OF THE BEST - OUR 10TH EDITION.
The all new Monsta, ready for anything in 2023 and beyond. To be in line with the Traktor Team's most recent favourite boards, we've made some slight adjustments to the foil along with fractionally deeper concaves to provide extra lift and quicker transitions.

The rocker is still the same magic curve as our Monsta 20, featuring a generous sweet spot which easily generates speed, allows you to control big turns, and balances release out of the lip. The nose has just enough flip in the last few inches to prevent catching in critical parts of the wave, while the tail rocker remains to fit into the waves our Monsta is designed to thrive in – almost any conditions from chest high to double overhead.

Single concave under front foot runs into a double concave through the fins to give you plenty of spark, yet maintain control in powerful surf, while a clean outline flows into a slight hip that allows for responsive direction changes. Overall, the Monsta prompts intuitive & fast surfing. It's our best flagship shortboard yet, and now, it's ready for the rest of the world to enjoy anywhere, anytime. The best always find a way to get better.

HIROTO OHHARA // Height: 5'4 (163 cm) // Weight: 141 lbs (64 kg)
Rides 5'8" x 18 ¼" x 2 3/16" x 23.9L

PETE DEVRIES // Height: 5'9 (175 cm) // Weight: 147 lbs (67 kg)
Rides 5'9" x 18 3/8" x 2 1/4" x 25L

KOBIE ENRIGHT // Height: 5'11 (180 cm) // Weight: 126 lbs (57 kg)
Rides 5'11" x 18 1/2" x 2 ¼" x 26L

KAULI VAAST // Height: 5'10 (178 cm) // Weight: 154 lbs (70 kg)
Rides 5'10" x 18 5/8" x 2 5/16" x 26.5L

ADRIAN BUCHAN // Height: 5'9 (175 cm) // Weight: 161lbs (73 kg)
Rides 5'10" x 18 5/8" x 2 5/16" x 26.5L

DUSTY PAYNE // Height: 5'10 (178 cm) // Weight: 165 lbs (75 kg)
Rides 5'11" x 18 3/4" x 2 3/8" x 27.8L

MIKEY WRIGHT // Height: 6'0 (183 cm) // Weight: 165 lbs (75 kg)
Rides 6'0" x 18 3/4" x 2 5/16" x 27.5L

JULIAN WILSON // Height: 6'0" (183 cm) // Weight: 176 lbs (80 kg)
Rides 6'0" x 18 7/8" x 2 3/8" x 28.5L

RYAN CALLINAN // Height: 6'0" (183 cm) // Weight: 176 lbs (80 kg)
Rides 6'0" x 18 7/8" x 2 3/8" x 28.5L

RAMZI BOUKHIAM // Height: 6'1" (186 cm) // Weight: 192 lbs (87 kg)
Rides 6'1" x 19 1/8" x 2 ½" x 31L

JOEL PARKINSON // Height: 6'0" (183 cm) // Weight: 192 lbs (87 kg)
Rides 6'1" x 19 1/8" x 2 ½" x 31L
MONSTA 10
WAVE TYPE
The Monsta 10 is one of the most versatile surfboards on the planet. From waist high to double overhead plus, everyday surfers to World Title contenders, average surfs at home to annual trips chasing waves. No matter what, it won't let you down. In competition, it's the go-to for the Traktor Team in beach breaks and classic QS conditions to elite Dream Tour locations like Snapper, JBay or Trestles – and it's been on the podium at all of them.
MONSTA 10
Features
| | |
| --- | --- |
| Rocker | The same medium rocker as the previous Monsta 2020. |
| Rail Type | Monsta 10 has medium rails, providing a forgiving ride if conditions are less than ideal, but still allowing unlimited performance. |
| Glassing | Sizes 5'6" to 6'4" are glassed standard with 4 x 3oz glass on the deck and 4oz on the bottom. 6'4" and above are glassed 4 x 4oz deck with 4oz bottom. |
| Fin setup | Monsta 10 squash comes stock as a thruster and as a 5 fin for a round tail. Alternate fin set ups and tail shapes are available under custom order. |

MONSTA 10
CONCAVE
Monsta 10 features a single concave starting at the nose running into a double concave beginning in front of the fins. Compared to the Monsta 2020, the concave between the feet and through the fins is slightly deeper, providing easy manoeuvrability while still giving the board maximum lift and speed.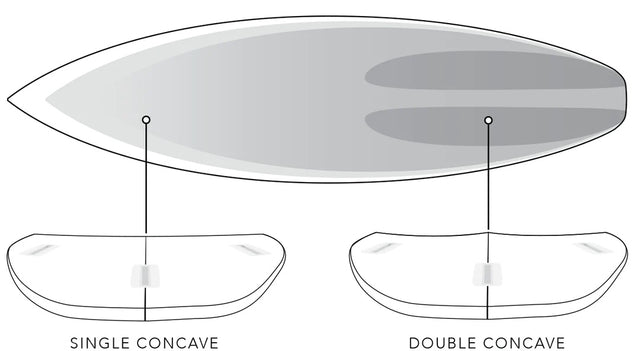 Total 5 star reviews: 5
Total 4 star reviews: 1
Total 3 star reviews: 1
Total 2 star reviews: 0
Total 1 star reviews: 0
86%
would recommend this product
Customer-uploaded media carousel. Press left and right arrows to navigate. Press space or enter to open more details.
Slide 1 selected
TK

HUGE SMILE with Monsta 10

This surfboard, with its perfectly tuned rocker, rails, concave, outline, and JS spirits, always provides me with numerous amazing monments. In paticular, the drive performance is unbelievably good. Thanks JS

Monsta 10

I Purchased this beautiful sled for my 13 year old boy who is currently surfing a black box 3. JS surfboards are a part of our family heritage lol. He wanted a more high performance board for the good days down here in Vic. This board has taken his surfing to a new level. It's made him more confident surfing hollower punchier waves. He worships this board. It sleeps in his room. It's gets re waxed every surf and has provided him with an amazing surfing experience. JS has always provided a great service when ever we need them.

Loving the monsta 10

My First js in a long time had a go on my mates monsta box and loved it,

Was thinking Xero gravity but Went the monsta 10

Just to handle that little bit bigger conditions.

Board is showing lots of potential

Speed ,drive ,stick but nice release

I feel confident this board won't let me down.

Excited to see how this board performs in different conditions

This will probably be my go to board for just about everything

Cheers

FS

Woww

Bought this board at kirra surf and holy moly. This board is just what I was looking for. Plenty of drive, spend and control. So stoked

R

New Monsta, New Favourite

Love the Monsta series by JS with the Monsta 2020 being my favourite. That is till the Monsta 10 was released.

Got this as a round tail and absolutely love it. Can feel the tiny bit of lift in the back part of the board making it easier to turn on the back foot. Stoked. Defined recommend.
Reviews Loaded
Reviews Added